Periodic Table of Feminist Porn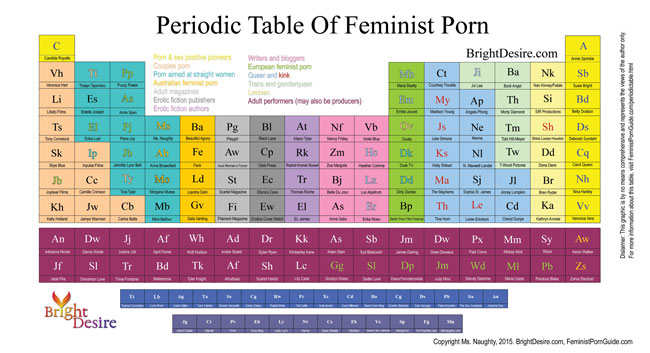 (Click on the thumb above to see the large version)
Being the nerd that I am, I thought I'd make a periodic table showing the various elements that make up feminist porn today.
It's taken quite a bit of doing, making a list of names and then sorting them into their appropriate groups. Of course, resisting groups and labels is a hallmark of feminist porn but I figured it would be interesting to at least try. Not everyone fits squarely into their given category and not all categories completely encompass the work of that person. Still, it's the periodic table, so you have to squeeze people into colours and locations so it all looks good.
It's by no means complete. There are names I've missed and some areas (like bloggers and erotic fiction) that are almost negligent in what they leave out. Again, the constraints of the periodic table meant it happened that way. That's why I created the blue section at the bottom, which is a listing of sex positive people, writers, filmmakers, performers, sex educators. Even then, this is biased towards people that I know or whose work I'm aware of. I essentially sat down and made a list from memory, filling in the squares where I thought things might fit. I also relied heavily on the winners of the Feminist Porn Awards.
Despite its flaws, I think it's a handy way to look at feminist porn and a good way to work out what kind of erotic material may suit you.
Got any suggestions as to who I've left out? Email me: msnaughty AT msnaughty.com
- Ms Naughty aka Louise Lush
Update 24th August 2012. I've now added a third line on the bottom for websites. Given that I've been an adult webmistress longer than I've been a director, it doesn't make sense that I left out some of the trailblazers of online feminist porn, especially since the internet has been so vital in freeing up expression and distribution models for alternative expressions of sexuality. So I've listed some of the older, classic sites and, yes, two of my own sites. Because I've been making feminist porn online since 2000 and I feel like my sites have earned there place here. And, fuck it, it's my table and I can self promote if I want, right?
Beyond this, though, I just can't add anybody else. There are a bunch of names that I could put into the main section but it would mess up the "periodic table" look. So here are the:
Shout Outs
(People who should be on this graphic but I'm calling time on messing with it any further):
| | | | |
| --- | --- | --- | --- |
| Abiola Abrams | BikeSmut.com | Prof. Constance Penley | Dr. Lynn Comella |
| Celine Parrenas Shimizu | Dr Mirielle Miller-Young | Holiday O'Hara | Gore Gore Girl |
| Always Aroused Girl | Chanelle Gallant & Good For Her | Becky Goldberg and Hot and Bothered | Rozemarije de Ronde |
| Emily Dubberley | Andre Shakti | Lorelei Lee | Kevin Heffernan |
| Kath Albury | Prof. Alan McKee | The Madame | Paul Deeb |
| Spit Magazine | Kate Sinclair | Carey Grey | jessica drake |
| Jacky St. James | Lucie Bee | | |
Annie Sprinkle suggested I should have Madonna in there, which is true, but I just can't fit her in anywhere. Annie also suggested Dori Lane's House O'Chicks and Carrolee Schneeman.
I also want to point out that Fatale Media and S.I.R. Video (run by Shar Rednour and Jackie Strano) should have their own squares. But limited space has made me cram them into one.
People of Color
It was suggested I should have a section/category devoted to people of color. That seems reasonable given that I've made a trans section. At the same time, it illustrates the difficulty of this particular graphic. I would need to double up names all over the place because people of color appear in all different kinds of feminist porn. Also, I like that everyone is all in there together and separating people according to race is a bit problematic.
However, it's important that those who are after porn by people of color know who is making it and appearing in it. So here's a list:
Shine Louise Houston
Nenna
Carlos Batts
Sophia St James
Papi Coxxx
Simone Valentino
Tyler Knight
Jada Fire
Afrodisiac
Mickey Mod
Adult Stores
I originally had adult stores Good For Her, Good Vibrations and Smitten Kitten on there but I've removed them because there are a lot of other sex positive stores and I can't include them all on the graphic. So instead, here's a shout out to: Mail and Female, Aslan Leather, Maxxx Black, Femplay Australia, JT Stockroom, A Woman's Touch, Blissbox, Coco de Mer and Babeland, among many others.
Gay Feminist Porn?
This table is light on for directors, sites or writers who primarily deal in gay male porn. While it's acknowledged that many women are fans of gay erotic material, not a lot of traditional male-male porn is identified as "feminist" nor is it aimed at a female audience. (By the way, I'm making a less-than-perfect distinction between gay porn and queer porn, the latter of which features numerous male-male pairings as part of the exploration of gender and queer sexuality.) Directors who have featured gay or mmf bi sex in their films include Erika Lust, Petra Joy, Anna Span, Shine Louise Houston and Tony Comstock, among others. A short-lived magazine called Syzygy also set out to offer gay pictorials and erotica to straight women. Beyond this, I'm hard pressed to name gay porn that should be included here, although that's mainly due to my own interests and knowledge. Again, recommendations would be welcome.
James Deen?
Edit 29th November 2015. I originally included James Deen because of his work in several feminist porn productions and his popularity with straight women. Adult performer Penny Barber questioned my inclusion in light of this article where he says he hates feminism. And today his former partner Stoya has made allegations of rape on Twitter. So that's it James, you're gone. I could never see the appeal anyway.
Nica Noelle?
I originally had Nica Noelle included in the porn for women/couples porn section. However, in an article in 2013 Nica disavowed that she was a feminist and said she felt the feminist porn movement excluded men. So since she doesn't want to be part of this, I've removed her name.
Complaints
If you think that this periodic table is all wrong and biased and too US-centric then by all means, make your own.
Here's the template I used.
Edit: 19 March 2013. I've made a new version of the table for a postcard and made the difficult decision to include EL James, author of Fifty Shades of Grey. I didn't want to but the fact is that that book has changed the landscape with regards to women and erotic material and as a history maker, I felt I had to include it.
Update April 2015. Well, the Periodic Table is now a bit out of date. I haven't had a chance to make changes and also, the limited scope of the table layout means there's no room to include newcomers. I recommend you check the directors page and also find out who's been nominated for a Feminist Porn Award this year to discover new directors and performers.
Update November 2015. I've added a few names: Mickey Mod, Pandora Blake, Erika Moen, Morgana Muses, Aeryn Walker, Stoya, Lucie Blush and the Toytool Committee. This took me FAR too long so it's as much updating as I'm going to do for now. Again, remember that this graphic is not comprehensive and reflects the personal biases of the author. Also it was originally created in 2012, there's been a lot of new directors and performers emerge lately. Check out the lists at Feminist Porn Guide and the winners/nominees of the Feminist Porn Awards.
Update April 2018. Yeah, I'm not updating this anymore, there's no room, it's too hard. If you want a large list of feminist / female directors please visit Female Porn Directors.